Your ads will be inserted here by
Easy Plugin for AdSense.
Please go to the plugin admin page to
Paste your ad code OR
Suppress this ad slot.
Jeff Williams walked on to the mound at Dodger Stadium and froze. The kid from Canberra had watched a Major League Baseball game on television in the 1980s, but never dreamed of actually getting there.
So when he walked out for his debut in Los Angeles, the reality of moving across the world to be an Australian baseball trailblazer finally hit home.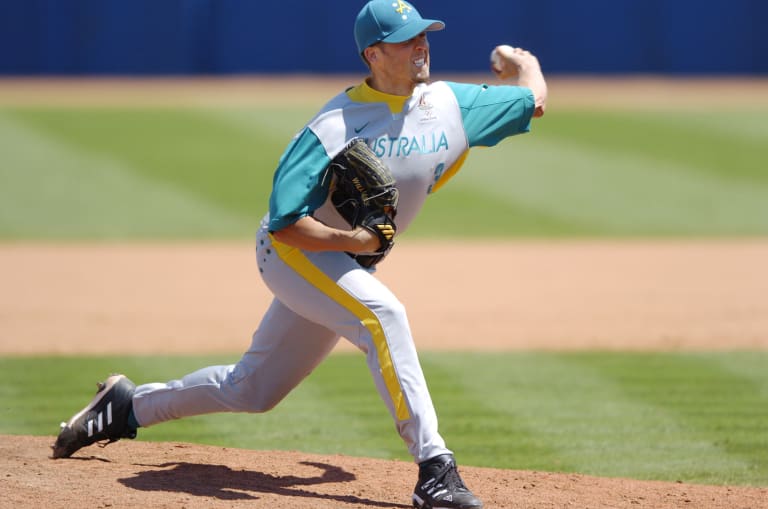 "Getting there was massive. One of the first games I had ever seen was the 1988 World Series and there was a Mexican-hat guy sitting behind home plate with a radar gun," Williams said.
"He was timing all of the pitches. The first time I stepped on the mound at Dodger Stadium, 11 years later, I was already nervous enough. I threw my warm-up pitches, was trying to focus, then I saw the Mexican-hat guy.
Advertisement
"That was the 'holy shit' moment. This was really happening, I'd made it to this place. And that has stuck with me. It was a reward for everything I'd worked hard for and everyone who had helped me."
Williams will be inducted into the ACT Sport Hall of Fame at the end of November, recognised for his rise to become a Major League pitcher and a successful stint at the Hanshin Tigers in Japan.
Touch player Garry Lawless, running coach guru Dick Telford and rugby league referee and administrator Noel Bissett will also be inducted at a function on November 30.
Williams is also a two-time Olympian and was instrumental in Australia's silver-medal winning team at the Athens Olympic Games in 2004.
Williams, who grew up in Page, played most sports when he was at school. But he got the baseball bug when one of his mates wanted to start playing.
"I was OK at every sport, but I was left-handed and could throw a ball pretty hard. So baseball kind of stuck," Williams said from his home in Arizona. "I grew to love it pretty quickly."
Williams was recruited to Southeastern Louisiana University in 1992, packing his bags and waving goodbye to his parents to take a chance on baseball.
Your ads will be inserted here by
Easy Plugin for AdSense.
Please go to the plugin admin page to
Paste your ad code OR
Suppress this ad slot.
Even then Williams viewed the game as a chance to travel and get an education rather than seeing it as a chance to pursue a full-time career.
He quickly made a name for himself in the United States, picked in the NCAA division one All-American team after 125 strikeouts and 12 wins.
The Dodgers signed up as an undrafted free agent in 1996 and Williams was the young gun in an Australian team at the Atlanta Olympics in the same year.
But the big moment came in Athens eight years later when Australia was playing against Japan. Williams told the Australian team manager to put him in the game when it mattered most.
He led Australia to victory in the gold-medal qualifying match and then starred again in the final, although Australia had to settle for silver.
"As much as making the Major Leagues was all the hard work paying off and was proving to myself that I could do it, that was the pinnacle," Williams said.
"But representing your country at an Olympics, that's a whole other thing. There's no feeling that compares to that because when you're a part of that, you can't put it into words.
"The pride you feel is incredible, and I had it in two different waves. We were amateur in 1996 and it was an experience.
"The second time around in Athens, we were pro, we knew we had a good team. We had the blinders on of going to do what we can to win, and it was incredible. It gives me chills just thinking about it."
Williams is still involved in baseball as a scout for the Tigers, but has limited his career memorabilia to three things: a Dodgers jersey, a Tigers shirt and his Athens Olympics uniform with the silver medal.
"This [Hall of Fame] stuff isn't my kind of thing. I like to fly under the radar. But it's such a huge honour to be inducted," Williams said. "It brings back the memories, you don't really appreciate [your career] until it's done."
Chris Dutton is the sports editor at The Canberra Times.